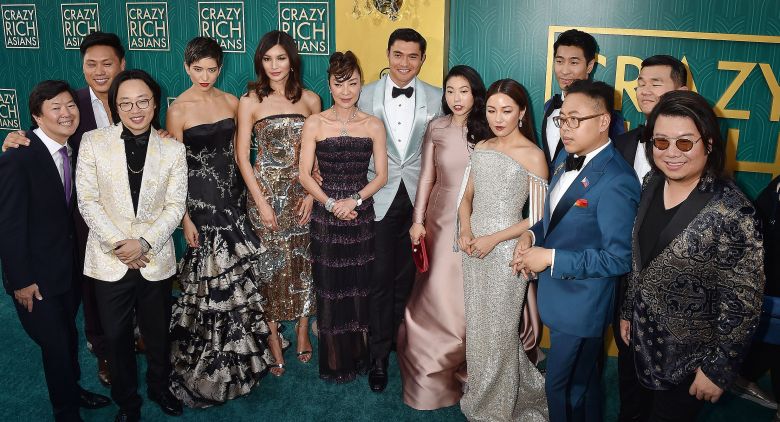 There are spoilers in this review.
So it's impossible to talk about this movie without acknowledging the major part everyone has been talking about from the start. This is a major Hollywood movie that stars an entire cast of Asian actors and actresses. This should not be a rare occurrence, but it is. Much like how Black Panther knocked it out of the park in terms of representation, and also being a damn good movie besides, Crazy Rich Asians is also both great representation and a wonderful film. Yeah I'm getting ahead of myself, but whatever, guess what, I really liked this movie. It'll show in the summary. I read all three books before seeing the movie, because they are very fast and entertaining reads. There are several things the movie does differently, and I understood completely their reasons why. Since it is all but guaranteed we'll see a sequel due to its success, I am psyched, because the second book was better than the first. But this is about the movie!
Rachel Chu (Constance Wu) is unaware that by falling in love with fellow professor Nick Young (Henry Golding), she's about to make her life a whole lot more complicated. He asks her to return to Singapore with him for his best friend Colin's (Chris Pang) wedding, and to meet his family. This could mean wedding bells in the future for them, something that is in both of their minds, but Nick has not informed her that his family is beyond rich. They are crazy rich. He also doesn't warn her how seriously people are going to take the fact she's a Chinese-American, from a poor single mother and not an important bloodline. I get that Nick wanted to keep things the way they are, and he likes how down to earth Rachel is, but he does let her walk into the lion's den here without enough warning. Nick's mother Eleanor (the incredible and powerful Michelle Yeoh) has cold polite viciousness down to a T, and she tries to intimidate Rachel into leaving. While she finds some allies in Nick's cousin Astrid (a personal favorite, played by Gemma Chan), Colin's fiancee Araminta (Sonoya Mizuno) and his gay cousin Oliver (Nico Santos), she's treated poorly by everyone else and even personally attacked by the women at Araminta's bachelorette party by finding a bloody fish in her bed. Rachel has her own support system there in the form of her former college roommate Peik Lin (Awkwafina) and her wonderfully quirky family.
Unsettled, Rachel still decides not to back down from Eleanor's pressure and the bad behavior of the others around her. She is more upset that Nick never warned her, and yes, good, he's nice but he shouldn't be that oblivious. Astrid's marriage is on the rocks because her husband Michael (Pierre Png) has always felt inferior to Astrid's powerful and wealthy family, and he's been cheating on her. She realizes that she shouldn't have to hide things from him so he can feel more secure, so their marriage is done, and her grandmother Su Yi (Lisa Lu) makes a rare public appearance to support her at the wedding. Their grandmother is the force behind everyone, and Eleanor allowed her to raise Nick instead, so he'd have a closer relationship and therefore become her heir. Eleanor was disliked by his Ah Ma and always belittled, even now as an adult, and she is in many ways taking that out on Rachel, or rather warning her off it. She investigated Rachel's family and reveals that her father, who she thought was dead, is alive and her mother had an affair and fled the country with her. She thinks Rachel hid this, but she didn't know. His grandmother shows a little of her stripes by saying he can definitely not marry her, no matter how nice she's appeared to Rachel, because she is the matriarch after all. They get it from somewhere. Rachel's devastated by that, and hides out with Peik Lin's awesome family. Nick sends for her mother Kerry (Tan Kheng Hua) and they get to bond and she finds out her mother's husband was abusive and dangerous and that's why she fled.
Rachel turns down Nick's proposal because she didn't feel comfortable making him lose his entire family for her, and she confronts Eleanor while playing a mahjong game. She allows Eleanor to win despite the fact she could, thus kind of selling the point that this was her decision and they didn't scare her off. However, Nick shows up to propose to her again, and she says yes this time because he does it with his mother's ring, and therefore her implied blessing. They have a nice engagement party and the movie is over. I should note here that in the book, Eleanor never gave her blessing and the book ended without Rachel and Nick really back together. It was left very open, possibly because he already knew he had a sequel in mind. But this is Hollywood! They need a happy ending, and you know what, these characters deserved one. They were likable and sweet and I was happy for them! Eleanor is much more a force of nature and even sympathetic at times, when she's much more difficult in the book. It was really fun to see them bring to life the wild nature of wealth, and the beautiful visions only described in the book. The house in particular was stunning, and that's important as it's supposed to kind of be the thing that everyone desperately would want to own some day, while Nick is the heir apparent.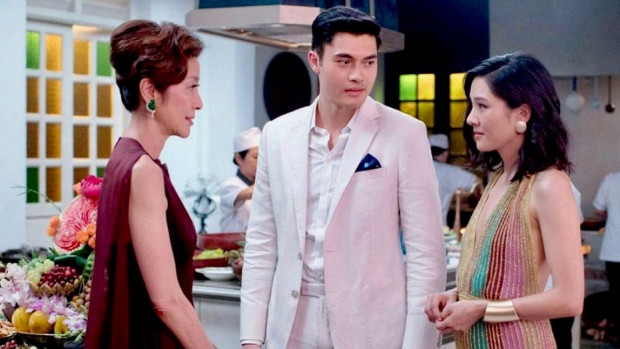 Shout out to Awkwafina who as usual steals every single moment she's in a movie. She's brilliant and wonderful, and her family was a welcome difference from the Young snakes. So in the book you get a little more sense of how important bloodlines are and the difference between types of money, but I think the book introduces the concepts well. Peik Lin's family for example are new money, as opposed to the Young very old money. They drop some exposition in well when discussing how Colin and Araminta might be truly in love, but it was only allowed because they were both of an acceptable class. It's all sprinkled in there. The movie balances comedy and romance with some serious moments, and you can't help getting invested in everyone, even Eleanor. Fantastic performances all around, and it's beautifully shot and makes you want to go to Singapore. This is a fun film, heartwarming and unique, and it was great that they did this meet the parents trope entirely from Rachel's point of view. I just wanted to wrap her up and take care of her, but she was formidable in her own right. As a fan of the book, the actors breathed life into all the characters and it did feel like they leapt from the page.
See this movie! It's charming, entertaining for both genders (fight me on this), and it's a big win for representation. I did read some blogs about how it only represented a certain part of Singapore and they wished it was a little broader. I really hope that the movie's popularity will give much more space for all stories to be told, or at least more of them. This is a solid stepping stone to more, I think!